Halifax Nova Scotia Hot Tubs & Spa Store
Master Spas Hot Tubs & Spas
A Hot Tub Universe hot tub offers so many benefits; and all in your backyard. Whether your desire is great health, an opportunity to re-connect with your spouse & family, a lazy retreat from the stress of the day, aquatic massage & therapy, a great night's sleep, or the social centerpiece of your backyard, a spa from Hot Tub Universe is the answer.

Buying a spa to enhance your life! Hot Tub Universe is here to help. We have the knowledge, experience and have done the research to know Master Spas brand stands apart from all the rest in enhancing your life. Master Spas offers the most innovative spas available! Their unique, patented EcoPur® Filtration System to take the work out of it and keep the enjoyment in your every day hot tub use. Our filtration system consists of dual filters* including our proprietary EcoPur and our state-of-the-art Corona Discharge Ozone Injection System. Rest assured that your Master Spa is built to be ready for you at any time while limiting any time consuming hassles of taking care of it.
The Ultimate in Therapy
For a fully integrated backyard look, beautiful design, Master Spas is putting you in complete control of your wellness. Whether your goal is to improve circulation, relieve pressure on your joints, soothe aching muscles, reduce swelling, or simply melt away the tension and fatigue of the day, sit back and relax while we deliver an unparalleled spa experience. From a gentle touch to maximum muscle-kneading force – the choice is yours.
Energy Efficient Spas
Better insulation means low energy costs. We use Icynene foam technology that has dramatically raised the standard over urethane foam insulation systems used by almost all U.S. spa manufacturers. Icynene is polyicynene expanding foam insulation that is environmentally safe. It allows foam to be sprayed without ozone destroying gases and without gas emission hazards. The Icynene Insulation System expands to 100 times its initial volume in seconds to insulate and air-seal the spa. The resulting blanket of soft foam insulation forms a continuous thermal barrier that eliminate s cold spots and significantly reduces energy costs. A consistent, comfortable temperature is maintained inside the spa, while cold air is kept outside, and condensation, mold and mildew prevented. Unlike urethane foam-based systems, which lose half their R value in as little as 2 years, Icynene maintains its insulation value for the life of your Master Spa.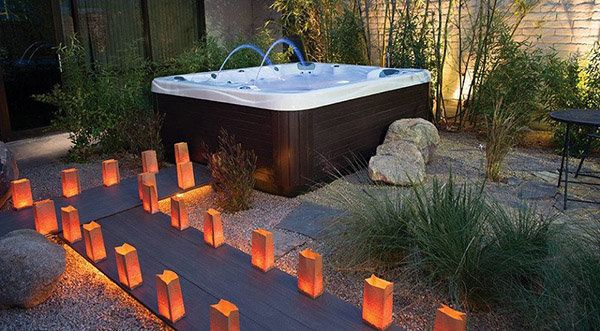 We Carry A Wide Range Of Master Spas Models
570, 670, 6900 Cedar, CLS-360 - Clarity Spas, CLS-524 - Clarity Spas, CLS-730 - Clarity Spas, CLS-730L - Clarity Spas, CLS-738 - Clarity Spas, CLS-738L - Clarity Spas, CLS-855 - Clarity Spas, CLS-855L - Clarity Spas, CLS-1055 - Clarity Spas (3 Panel), CLS-1055 - Clarity Spas (4 Panel), CLS-415 , CS 650, CS 700, CS 750, CS 800, CS 850, East Hampton, Essex, Firelake, HL 616, HL 620, HL 624, HL-7 - Healthy Living Hot Tubs, HL-7.5 - Healthy Living Hot Tubs, HL-8 - Healthy Living Hot Tubs, HL-8.5 - Healthy Living Hot Tubs, Little Harbor, LS 1000, LS 1050, LS 1557, LS 1650, LS 650, LS 700, LS 750, LS 800, LS 800 STS, LS 850, LSI, LSS 750, LSS 825, LSX, LSX 557, LSX 700, LSX 800, LSX 850, LSX 900, LS2X, LSXS, MP Force - Michael Phelps Series (5 Panel), MP Impact - Michael Phelps Series (4 Panel), MP Momemtum - Michael Phelps Series (5 Panel), MP Signature - Michael Phelps Series (5 Panel), MP Signature S - Michael Phelps Series (5 Panel), Trainer 12-H2X (3 Panel), Trainer 14-H2X (4 Panel), Trainer 15 (4 Panel), Trainer 17-H2X (5 Panel), Trainer 18 (5 Panel), Trainer 19-H2X (5 Panel), Twilight Series, TS 120, TS 240, TS 6.1, TS 6.2, TS 67.15, TS 67.25, TS 7.1, TS 7.15, TS 7.2, TS 7.25, TS 8.2, TS 8.25, TS - 8.3, TS 8.35, TS FIT (3 Panel), TSMP (3 Panel), TX 87.3
Contact Us
Hot Tub Universe
3 Holland Road
Fall River
Nova Scotia
B2T 1J3

Hours Of Operation
Monday: 10:00 a.m. to 6:00 p.m.
Tuesday: 10:00 a.m. to 6:00 p.m.
Wednesday: 10:00 a.m. to 6:00 p.m
Thursday: 10:00 a.m to 6:00 p.m
Friday: 10:00 a.m to 6:00 p.m
Saturday: 10:00 a.m to 6:00 p.m
Sunday: Closed all day

Social Media
Twitter
Facebook
Our advice site
Contact Chris Wheatley
Office: 902 576 5115
Fax: 902 576 3303
Email: chris@hottubuniverse.ca